Bring Back That
Oven Feeling
OCC Oven Cleaning Brighton
Get your oven cleaned to a gleaming standard by a local, family-run oven cleaning business in Brighton. Our experienced team clean so well that we've received over 30 5-star reviews on Google.  We clean domestic ovens of all shapes and sizes throughout Sussex.
Do you really want to spend your time cleaning your oven?
Having a lovely clean oven is something everyone wants but no one wants to do. We call the kitchen the heart of the home but often put off keeping the most important appliance in there in the condition we would like.  It's because oven cleaning is hard work. Our team have all the tools, non-erosive chemicals and skills to do this for you to bring your oven back to its former glory.
No one really wants to cook their meals in a dirty oven as it can affect the oven's performance as well as being an unpleasant idea. When we clean it for you, we don't just take away a task no one wants to do, we also clean it to a standard few oven-owners could achieve on their own. Previous clients have often been overjoyed with our service and astounded at the sparkling, new-looking oven we leave them with. People have even said it looks like a completely different oven.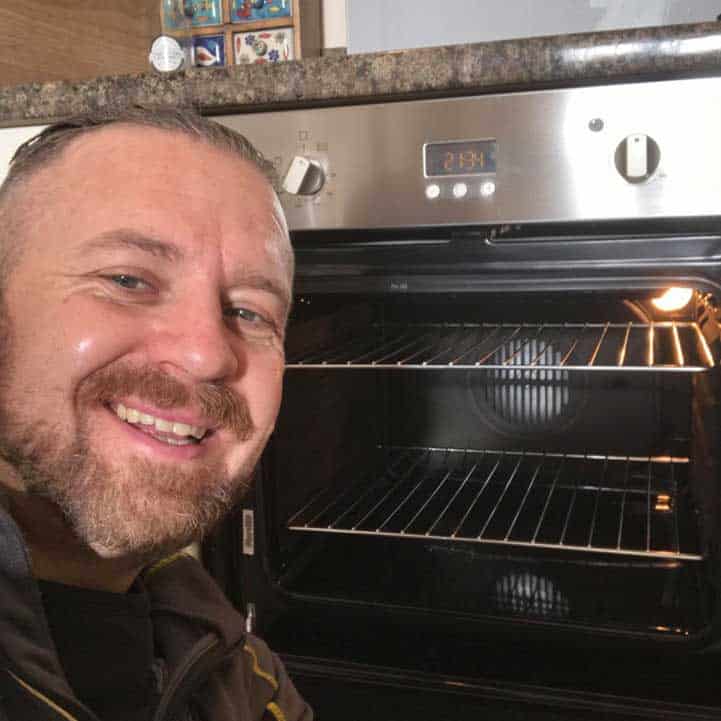 Family Run, Local Business
We are a family-run, non-franchise, fully trained professional oven cleaning company. We cover all parts of Sussex.
Our team are all experienced oven cleaners who will tackle any domestic oven no matter how dirty it is. This fearless crew produce the best possible results with even very dirty and old ovens using only bio-chemicals so no harsh corrosives.
We clean all types of domestic ovens whether they're fuelled by electricity or gas. We also clean all sizes and makes of range cookers. 100% customer satisfaction is so important to us, we strive for it with every clean regardless of whether it is a small single oven or a very large range cooker.
Our unique oven cleaning system causes minimum disruption and we leave absolutely no mess behind. All you need to do is let us in and you can go about your normal day while we work. The OCC Oven Cleaning Co leave your kitchen just how you left it apart from the sparkling clean oven which is ready to use.
Over 70+ 5-star Google Reviews
from Brighton & Sussex

Tom Blake
Colin came to clean our oven a few days ago. We had previously tried to clean it ourselves using various methods but nothing worked. Then I heard about OCC so thought we'd give it a shot. We're now shocked at how clean the oven is. It's like brand new...
Read More.

Izzy Pinckston
Great service. Very friendly, on time and efficient. Oven was spotless and extra parts not included in price were dealt with which was generous :).

Vivien Eliades
Wow! Brilliant service. Arrived early (texted first) and left my mother-in-law's oven and hob gleaming. Very competitively priced and included a new light bulb in the oven. Polite, friendly, tidy, excellent.
Tim Irvine
Exceptional. Our oven was left in a pretty sorry state by the folks we bought our house from a few months back, and Colin has done an outstanding job restoring it to something we feel much happier using for cooking!
Read More.
Margarida Espirito Santo
Colin did an absolutely brilliant work! The oven and hob were left as clean as if they had just arrived from the store (or maybe even cleaner)! On top of it, he arrived on time and was extremely nice.
Read More.

Lisa Seymour
Colin from OCC, is polite, courteous, and a demon of a oven cleaner. Can't recommend him enough. My oven is like brand new, and not a spec of dirty oven water anywhere. Thank you.
Being a locally based firm of Sussex oven cleaners, we can cover all of Sussex. Our nippy vans carry us to all urban or country areas so we can clean ovens in Brighton, Worthing, Eastbourne, Burgess Hill and any other Sussex town or city as well as country areas like Billingshurst, Hurstpierpoint, Ashurst, West Chiltington and everywhere in between. We bring everything we need to do a lovely job cleaning your oven with us so we cater for any type of house or accommodation with domestic ovens.
Need something specific? Let's discuss your query in brief